THE SACRED CHAO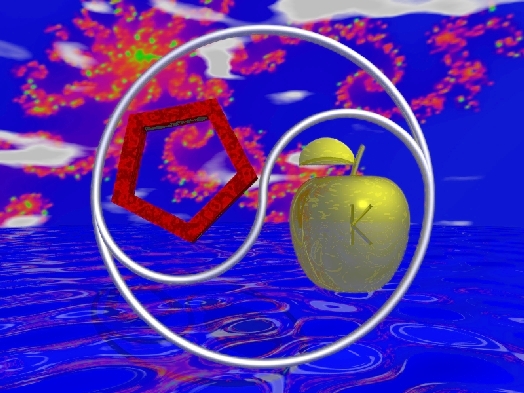 THE SACRED CHAO is the key to illumination. Devised by the Apostle Hung Mung in ancient China, it was modified and popularized by the Taoists and is sometimes called the YIN-YANG. The Sacred Chao is not the Yin-Yang of the Taoists. It is the HODGE-PODGE of the Erisians. And, instead of a Podge spot on the Hodge side, it has a PENTAGON which symbolizes the ANERISTIC PRINCIPLE, and instead of a Hodge spot on the Podge side, it depicts the GOLDEN APPLE OF DISCORDIA to symbolize the ERISTIC PRINCIPLE (both discussed in the Psycho-Metaphysics which we suggest you skip over).
The Sacred Chao symbolizes absolutely everything anyone need ever know about absolutely anything, and more! It even symbolizes everything not worth knowing, depicted by the empty space surrounding the Hodge-Podge.
HERE FOLLOWS SOME PSYCHO-METAPHYSICS. If you are not hot for philosophy, best just to skip it.